Relax while you are away knowing your dog is in a safe and clean environment. The Doggie Inn Kennels are cleaned daily with plenty of fresh water. Easy listening music is played to keep your pets comfort level more enjoyable along with aromatherapy in our kennel area during sleep hours. The Doggie Inn provides healthy treats during their stay with us. We welcome you to bring in your pets favorite toys & treats, but if you forget we always have "goodies" on hand. We do ask that you do not bring any rawhide bones (for your dogs safety). Also bring the appropriate supply of your pet's usual food with their name on it. All playtimes are individual or with dogs of the same family only. We do not do "group playtimes" with multiple dogs together. So plan your vacation & relax "guilt free" knowing your K9 friend is having a fun, loving vacation too.
•Warm & cozy kennels
•Air conditioned indoor kennel areas range from: 4x5' & 5x5'
•Outdoor kennel runs: 4.5' x 10'
•Indoor/outdoor kennels open 8 am - 9 pm access weather permitting
•Video & photos text to your phone for peace of mind while you travel upon request
•Kennels include: Raised bed with a flat blanket (no fluffy blankets allowed to prevent dangerous chewing)
•Yummy frozen Kongs
•Bones given at lunchtime
•Antlers and Nylabones provided for chewing
•Calm music played constantly throughout the day and evening
•Diffuser with Lavender/ Orange calming scent during evening hours
•Daily rates includes one session of 20 minutes walking & two sessions of 20 minutes outdoor time per day
•Multiple outdoor times
•24 hour camera monitoring
•Text photos and videos at your request

DAILY RATES & CHARGES:
•Regular boarding rate: $53 per day (Additional family dog $49)
•Holiday Boarding Rate: $60 per day (Additional family dog $56)
•Medications: $6 per day
•$5 day for our Kirkland Grain Free kennel food
•Holiday Rates (Spring Break, Christmas Eve, Christmas Day, Thanksgiving Day, New Year's Eve, New Year's Day, Easter Day, July 3rd, July 4th, Memorial Day, Labor Day
•Daily rates includes one session of 20 minutes walking & two sessions of 20 minutes outdoor time per day.
•Add unlimited playcard for all day every day activities while boarding for $125
**We do not take agressive, fearful, biting or agressive dogs**


The Doggie Inn, would like to thank you for your patronage and let you know that we are moving to a new customer management platform called Paw Partner. It will enable you to interface more easily, book daycare and boarding appointments, update your dog's vaccine records, and interact in a way we've never offered before. View printable PDF here.

STEP 1:
Create an Account
Download the Paw Partner App from either the Google Play Store or Apple's App Store (it's free!). Then create your Paw Partner account.

STEP 2:
Make
a Reservation
After you've successfully created an account, begin by clicking the 'Make a Reservation' button.
STEP 3:
Select The Doggie Inn
Select The Doggie Inn from the list of pet business locations.

STEP 4:
Complete Your Information

Fill in the rest of your information, such as contact information and address.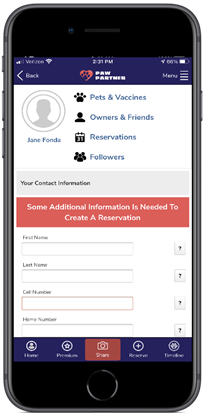 STEP 5:
Complete Your Dog's Profile

Tell us about your dog so we can take the best care of them at The Doggie Inn.
STEP 6:
Choose a Reservation

Tells us the details of your reservation.
STEP 7:
Upload Vaccination Records
Upload your documents through the app or on the Paw Partner website.

STEP 8:
Pamper Your Pup
Let us know if you'd like any additional services for your pup during their stay.

STEP 9:
Confirm Your Reservation
After you complete your reservation details, The Doggie Inn will contact you to confirm your reservation.